Season 2 Episode 1 Oct 12, 2016
Misfit Culture
Where we learn all about the Sub Pop Airport Store at Sea-Tac Airport. Hear from employees of the store, employees of the company who don't (usually) work at the store (including, in an exclusive first-time-ever appearance, leader and co-founder of Sub Pop, Jonathan Poneman!), and random airport store customers (randomly including Stacey Rozich, friend of the label and excellent artist!).
As always, this episode is brought to you by producer/hosts Alissa Atkins and Arwen Nicks. Not as always, this episode is brought to you from the *NEW* Sub Pop Podcast studio (about which, more later).
---
Show Notes
The Sub Pop Airport Store… What is it, why is it, where is it? Has Sub Pop "sold out"? What would it even mean for Sub Pop to "sell out"?? These questions (and, reliably, "more") are investigated in depth in this week's Sub Pop Podcast episode.
So, yes, a goodly amount of this episode was taped "on location" at the Sub Pop Airport Store, Sub Pop's sole retail outlet in the entire world, located on the "hot" side of security at Seattle's Sea-Tac (International) Aiport. That means you (probably) need to buy an airplane ticket to visit it. In case that isn't feasible for you, or if you just want to know the why / where / when / who / what of it all, this episode is for you!
The airport store opened in May 2014, so as of the airing of this episode it's nearly two and a half years old (the terrible twos – it's true what they say!). You can read what the Sub Pop Blog had to say on the occasion of the store's opening. (There are also some nice photographs accompanying the blog post.)
The airport store contributes a monthly column, "No Fly List," to the Sub Pop Blog. I would tell you they're well worth reading, but you can surmise that from me merely mentioning that they exist. I like that about you. Here's a representative example and the most recent one. You can (sort of, maybe, almost) find a list of them here. Maybe.
Anyway, let's get a L@@K at the airport store (something the podcast itself can never do, ha ha ha ha!).
Let's start with a video tour, produced by the airport store themselves.
Now some "stills." These photos are super fresh and courtesy of Sub Pop Airport Store employee Javier Suarez. Thanks, Javier!!
Here we have the front of the store:
Some interior shots: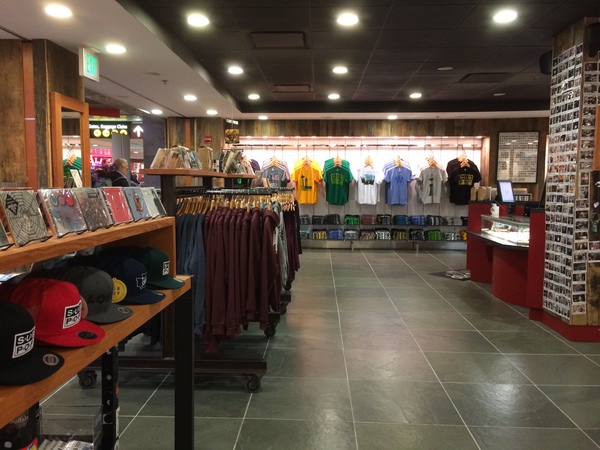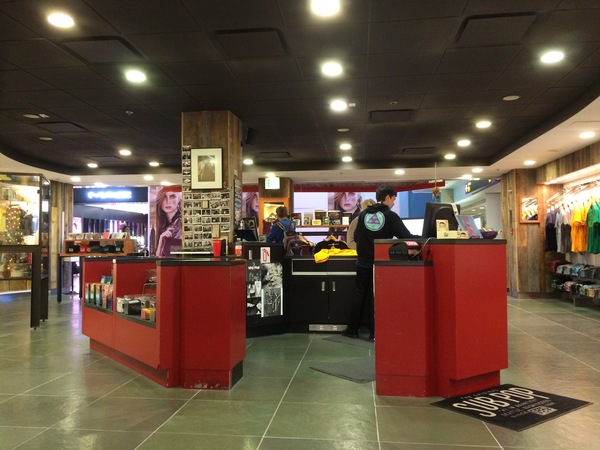 Listening station: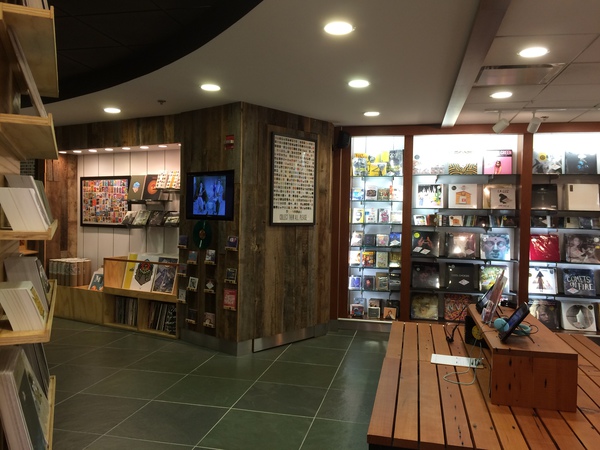 Records for sale: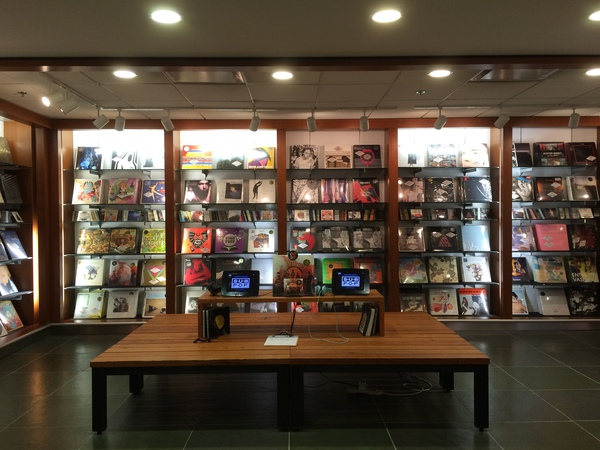 Sweet panoramic:

And some views of the aforementioned (afore-in the podcast itself, that is) airport store polaroids. See if you can spot Elvis Costello or Kyle Thomas!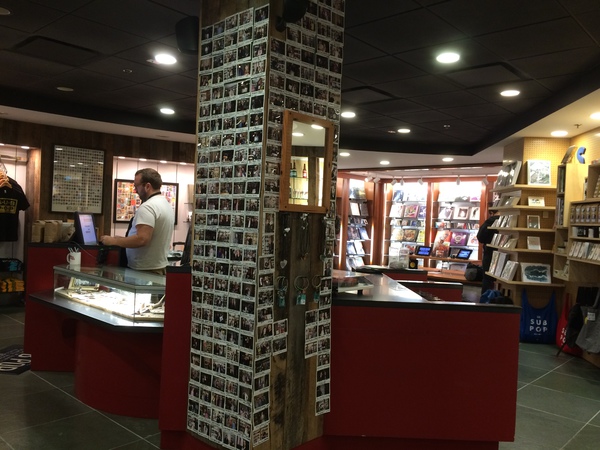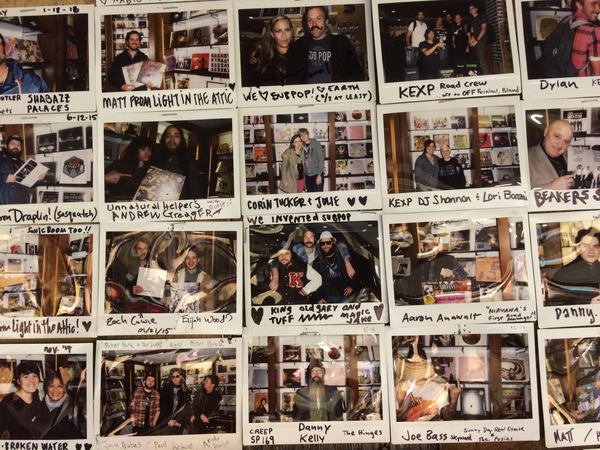 Moving on…
Arwen ran into Stacey Rozich at the airport store, and chatted to her for a bit about her art and how she got started doing album cover art. Stacey (with an 'e') Rozich (sounds like "ROSE-ITCH") has a site that is worth your while and a top rated Instagram account ("top rated" by people who work here). Let's capitalize on this fortuitous run-in and take the chance to show some of Stacey's music-related work:
The Curious Mystery We Creeling cover art by Stacey Rozich (the one that started it all!). The Curious Mystery is Shana from La Luz's band before La Luz. If you didn't know, now you know…
Earth Angels of Darkness, Demons of Light I cover art by Stacey Rozich: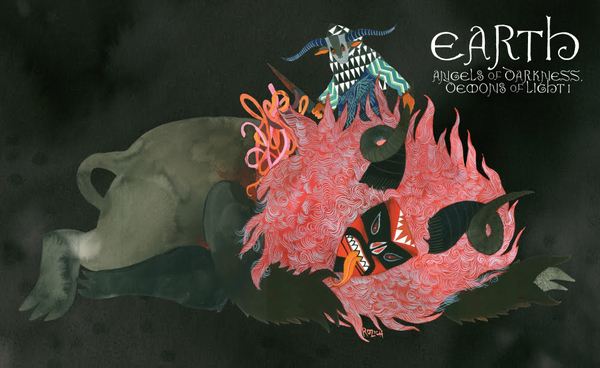 Earth Angels of Darkness, Demons of Light II cover art by Stacey Rozich: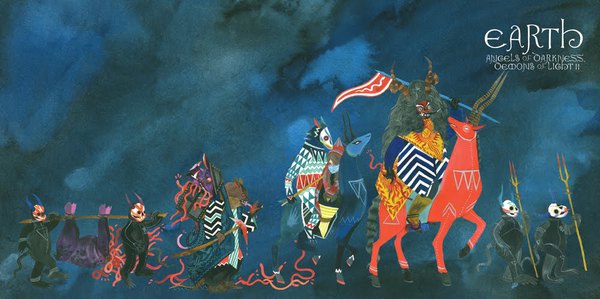 Father John Misty I Love You, Honeybear cover art by Stacey Rozich: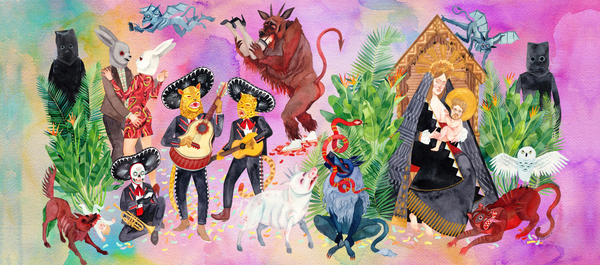 Father John Misty I Love You, Honeybear deluxe version pop-up innards by Stacey Rozich: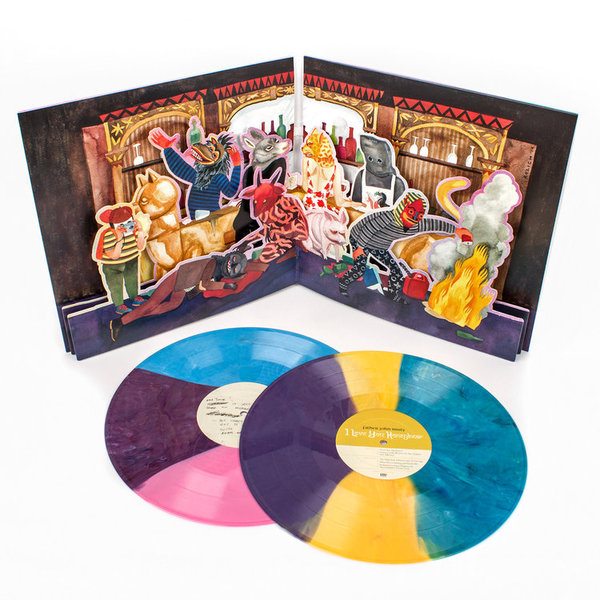 See higher resolution versions of these images and a whole, whole lot more of Stacey's "commercial" work on her site.
As noted in the episode (also as noted already once in these very show notes), this episode marks the first appearance of Sub Pop co-founder and President Jonathan Poneman on the Sub Pop Podcast. It's a real treat to hear him and get a glimpse into his thinking about the airport store, selling out, et cetera. I'm not saying that solely because he signs my paychecks, only partially.
For your visuals, here's a photo of a polaroid of (left to right) Jonathan Meiburg (of the band Shearwater; oh! JM was interviewed on the podcast last season … shameless plug) and Jonathan Poneman at Sub Pop's Silver Jubilee Street Party and All Day Celebration in 2013: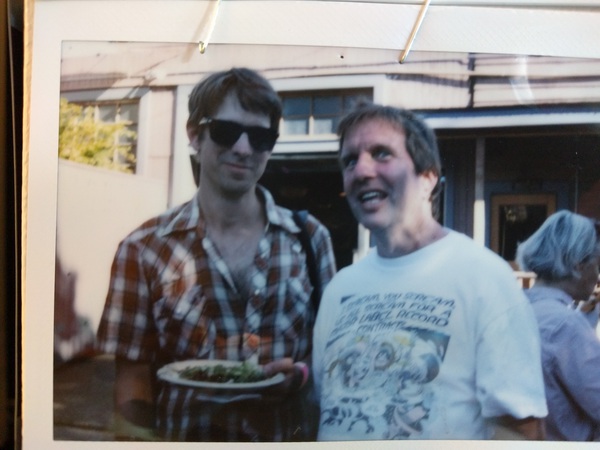 Moving on…
Okay, so what is the larger context in which music in general and the Sub Pop store in particular fit into the Port of Seattle's plan for Sea-Tac Airport?
Well, as we learned in the episode, the Port has a fairly comprehensive ongoing project called "Experience the City of Music"(*) (are you experienced?), with the goal of featuring our region's contributions to music culture – which are, of course, legion: Jimi Hendrix, Heart, TAD, Bruce Lee, The U-Men, Mark Arm, The Wailers (not Bob Marley's Wailers…), Hey Thief Steal Me a Peach, The Sonics, and so many more that I have to stop listing them.
(*: Parenthetical note on the Port claiming the "City of Music" moniker for Seattle: Sorry Vienna, Austria. Sorry Leipzig. Sorry Glasgow. Sorry Austin, TX. Sorry Paris, France. Also probably New Orleans, Chicago, Nashville…)
I must say, however, it is pretty cool (in a "what world do we live in?" way) to be walking through the airport and hear Mark Arm tell you to keep your bags with you at all times. So I give the "Experience the City of Music" project a ten (out of ten)!
Since you've (well, I've) become accustomed to it, here's a John Atkins bonus GIF: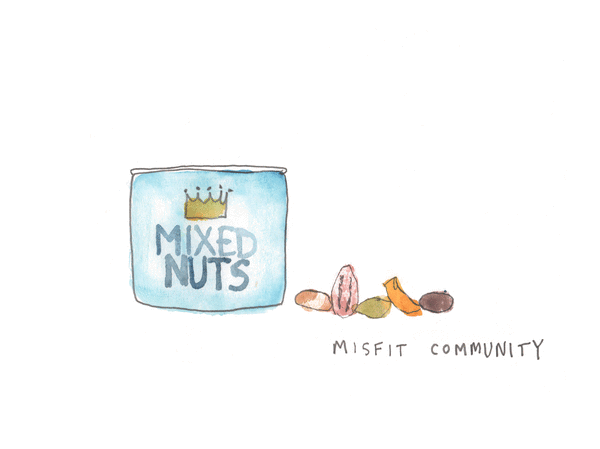 Until next week, take care of yourself. Support your local airport!!